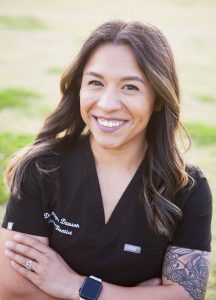 Dr. Alyssa Dawson will tell you that she always knew she wanted to be a dentist. It stemmed from having a lack of accessible dental care as a child like many other children in her Hispanic community. She vowed to become a dentist and do her best to help people while also empowering young minority girls and women in general, to pursue their dreams, especially of becoming a doctor or dentist.
Course of Study
Dr. Alyssa graduated summa cum laude from Texas A&M University-Corpus Christi with her high school sweetheart-turned-husband Dr. Trenton Dawson, where she earned a bachelor's degree in biomedical sciences. She went on to earn her DDS from Texas A&M University College of Dentistry in Dallas, graduating in 2018. She is passionate fixing more complex dental problems, oral surgery and both cosmetic and pediatric dentistry. Dr. Alyssa has an extreme passion for dentistry and takes pride in offering the best dental care possible. She will take her time getting to know you and your family to come up with a mutual plan of action for all of your dental needs. Dr. Alyssa is a Gold Invisalign® provider and enjoys taking continuing education courses on topics she is passionate about to make sure you are always receiving the most relevant treatment.
Dr. Alyssa completes additional training annually, and is also a member of the:
Her favorite part about being a dentist is how she gets to make an immediate impact on her patients, and her goal is to help patients feel comfortable each time they visit. She truly loves working with her patients, providing dental education and making them love their smiles!
Outside of Dentistry
Dr. Dawson is an active member of her community and volunteers in her spare time to provide free dental care to those in need. Outside of dentistry, she enjoys spending time with her husband, Dr. Trenton, their children Mello and Harlow and their English bulldog, Cardi. They enjoy staying active, hiking, camping, playing soccer, enjoying water activities, spending time outdoors and finding new adventures in Austin.
| Day | Hours |
| --- | --- |
| Monday | 9:00 a.m. - 5:00 p.m. |
| Tuesday | 9:00 a.m. - 5:00 p.m. |
| Wednesday | 9:00 a.m. - 5:00 p.m. |
| Thursday | 9:00 a.m. - 5:00 p.m. |
| Friday | 9:00 a.m. - 5:00 p.m. |
| Saturday | Closed |
| Sunday | Closed |