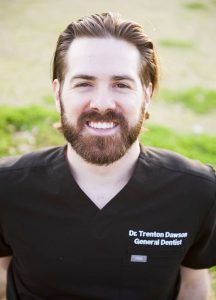 Trenton Dawson, DDS
Your Intelligent, Legitimately Cool Austin Family Dentist
Born and raised in Arlington, Texas, Dr. Trenton spent his youth trying to grow up as quickly as possible. He enjoys life's ups and downs, appreciating all of the opportunities he has been fortunate enough to experience. He loves being your Groovy Dental dentist in Austin because he knows coming to work every day allows him to bring beautiful smiles out in the community.
Course of Study
Dr. Trenton attended Texas A&M University-Corpus Christi with his high school sweetheart-turned-wife Dr. Alyssa Dawson. He graduated summa cum laude with a Bachelor of Science in biomedical science. The Dawson team worked together and excelled at their studies. They were both thrilled to be given the opportunity to attend dental school in Dallas at Texas A&M University College of Dentistry. The couple spent four years learning everything there is to know about dental care, working hard to become the caring and talented dentists they are today with the goal of helping people smile with confidence. Dr. Trenton had a special clinical focus on fixing extremely complex cases, cosmetic dentistry, implant placement and oral surgery. Dr. Trenton is also a certified Invisalign® provider. He's a member of the:
Outside of Dentistry
Outside of the office, Dr. Trenton likes to travel with his family and a group of friends the couple has traveled the world with. Both doctors love to give back to our community and worldwide. They have traveled to Jamaica and Bolivia with the Hands of Mercy clinic helping those in need providing free dental work. They have also shared their unique style of Austin dental care to other families in Texas with the state's Mission of Mercy program, traveling to rural areas for a week and helping heal smiles with free dental care. The family stays active by finding new adventures outdoors, backpacking, hiking, exploring Austin, and playing with their two children Mello and Harlow as well as their English bulldog Cardi!
| Day | Hours |
| --- | --- |
| Monday | 9:00 a.m. - 5:00 p.m. |
| Tuesday | 9:00 a.m. - 5:00 p.m. |
| Wednesday | 9:00 a.m. - 5:00 p.m. |
| Thursday | 9:00 a.m. - 5:00 p.m. |
| Friday | 9:00 a.m. - 5:00 p.m. |
| Saturday | Closed |
| Sunday | Closed |